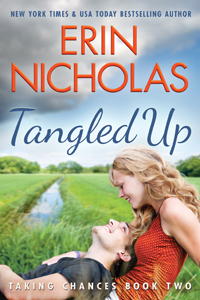 Taking Chances Series – Book 2
Storm chaser Max Grady can already feel it: there's a tornado coming to his hometown of Chance, Nebraska. Max is going after it, and the only person he wants by his side is police officer Bree McDermott, fellow adrenaline junkie, his best friend, and the woman Max has secretly been in love with for years. But when a close call with a tornado leaves them lip-locked, Max knows that the danger is only beginning.
Bree is always up for excitement. Her close and sexy encounter with Max is unlike anything she's felt before, and she wants more. As they work together to help clean up Chance, the air between them crackles with sexual tension. But Bree has a tendency to look ahead to the next thrill, and Max knows it. Now they're all tangled up as they chase the strongest force of nature on earth: love.
Available at the following retailers: