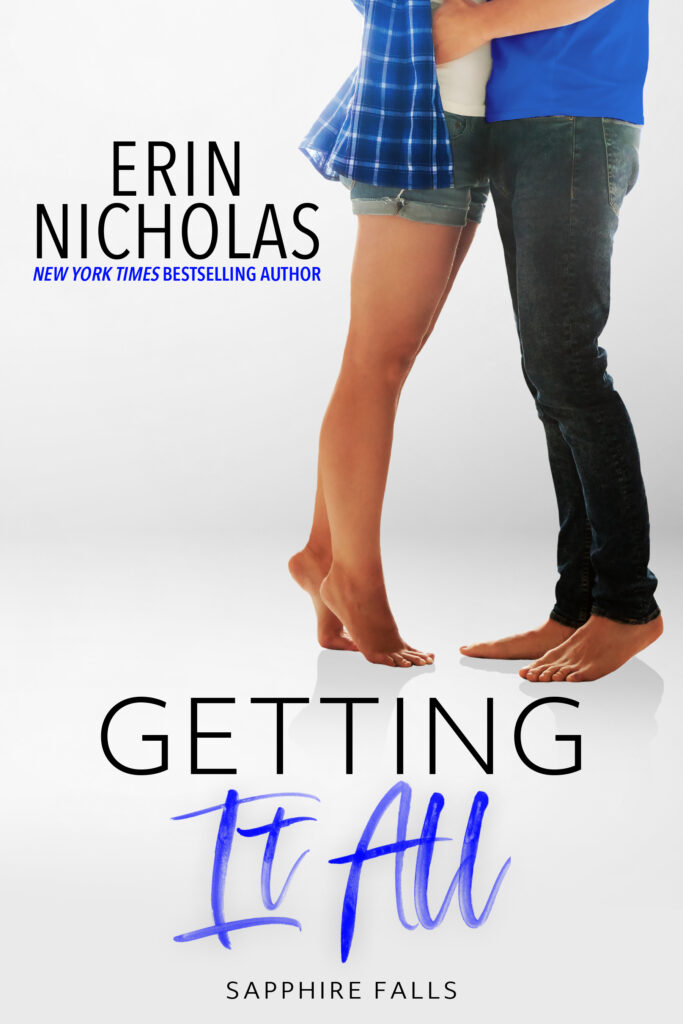 Sapphire Falls Book 5
There's nothing like summertime in Sapphire Falls and Tucker Bennett is looking forward to spending the time with his best friend's four young sons.
After the tragic loss of their parents, he's prepared to step up and be there for them any way he can. But nothing could have prepared him for punch to the gut he felt the first time he locked eyes with their gorgeous aunt Delaney.
Tucker has only ever wanted three things in life—a farm, a wife and kids. He's already got the farm. Now it looks like Fate has delivered the rest in one complete just-add-dirt-bikes-and-a-new-puppy package.
Delaney Callan is beyond grateful for Tucker's help while she catches her breath from becoming a sudden surrogate mother to her nephews. And she is definitely not immune to the sexual tension bouncing between them like a Fourth of July rocket. But with her world already turned upside down, she can't possibly think about a relationship. Especially with a guy who has marriage on his mind.
But what's a girl to do when the most impossible-to-ignore Bennett shows her the difference between what she needs and what she wants… and proves that with him she can have it all?
Available at the following retailers:
Delaney Callan wanted Tucker Bennett more than any man she'd ever met.
No, it went beyond want. She needed him. Bad.
And it had nothing to do with the faded blue jeans that molded to his butt and thighs or the royal-blue T-shirt that stretched over wide shoulders, thick biceps and flat abs.
Or the deep rumbly voice that said, "Hey, Delaney." Or the grin that he gave her that felt familiar even though she'd only ever seen it in photos.
It had everything to do with how pleased he seemed to see the boys.
And her. That grin was really something. But it was more the boys.
She'd never wanted a guy as much as when Tucker grabbed the back of six-year-old Jack's pants as he started to climb up one of the wrought iron shelving units to try to reach a coffee cup.
She had been out of her seat and reaching for Jack when Tucker strode through the door, jingling the little bell overhead, and immediately swung the little boy up and over his shoulder like a sack of potatoes. A giggling sack of potatoes. Like he had a sixth sense, Tucker then grasped the back of eight-year-old David's shirt, keeping him in place as David started for the sample tray on the counter—for the fifth time.
He spun David into his chair at the little round table near the window and then dropped into the chair Jack had occupied with the boy in his lap.
Having someone else handle the boys without even blinking, with a big panty-melting grin in place even, was hot. Pure and simple.
She almost cried it was so hot.
Of course, she was completely exhausted, her body was more caffeine than water, and she hadn't had sex in so long she wasn't sure she could find all the right parts anymore. But she was pretty sure it was really hot anyway.
In retrospect, Delaney realized that bringing four tired, bored, restless, hungry boys to a quaint bakery and candy shop might have been an error in judgment.
She'd have to add it to the list of those she'd made lately.
She and Tucker had chosen Scott's Sweets as their meeting spot since it was right along the highway and Delaney had never been to Sapphire Falls before. Not that it was a huge town, but taking the boys to a place with cookies had seemed like a good idea.
It wasn't like Tucker had kept them waiting either. They'd been there for about ten minutes. It had only taken her nephews three minutes to start trouble.
"Hi, Tucker."
Her grin must have been a little too enthusiastic, because he blinked at its brightness before nodding. "Good to see you."
"You too." He had no idea.
The eight hours on the road today had been tough. Worse than yesterday's eight hours.
Of course, the past four months had pretty much sucked twenty-four-seven, and Delaney really thought it was possible she would never feel rested and content ever again.
But being here in Sapphire Falls, Nebraska, with Tucker Bennett was a really good start toward that. She thanked God, literally, that her brother-in-law had spent every summer in Sapphire Falls with his boys since the oldest, Henry, had been born twelve years ago.
Summer break had started for the boys three days ago. She'd packed them up and pointed the car toward Sapphire Falls the minute she'd been able.
Tucker knew the boys. They stayed at his house every summer, all summer. Tucker had helped their dad teach them to fish and ride dirt bikes and do chores around the farm. They always talked excitedly about the dirt-bike races and the summer festival and swimming in the pond and driving the tractor. This summer in Sapphire Falls was exactly what the boys needed.
And frankly, what Delaney needed.
The help. From someone who knew the boys so well, someone they were familiar with and liked. Someone their father had trusted implicitly. Someone their father had asked her to bring them to see.
Jack sat on Tucker's lap, happily picking colored sprinkles off the top of his brownie and putting them in his mouth one by one. As if he was a pro at sitting still and behaving. He barely even wiggled. A miracle in and of itself. Up until that moment, he'd been jumping up every two minutes to reposition the chair, getting on the floor to play with his matchbox cars, getting up to run to the bathroom, going to the bakery display case six times and asking for refills on his water twice.
Of course, if she was on Tucker's lap, she wouldn't be inclined to leave it anytime soon either.
Delaney caught herself and shook her head, sitting up straighter.
"Hey, Henry," Tucker said to Delaney's oldest nephew.
"Hey, Tucker." Henry didn't quite smile, but he looked interested at least.
That was the most positive expression the kid had worn in a month.
"Your dad told me you'd grown a lot this year, so I have a new bike out at my place for you to try."
Delaney held her breath, watching Henry.
Most people tiptoed around the subject of the boys' mom and dad. Most adults weren't sure how to talk to kids after their parents had died.
Delaney didn't do that. She brought both Rafe and Chelsea up on a regular basis. She said things like, "your mom would have loved this", or, "that's how your dad always did it".
But most people avoided the topic entirely, not wanting to make the boys sad.
She appreciated that Tucker didn't do that.
She was also grateful that Tucker had assured Rafe that the boys would have their Sapphire Falls summer like always. She knew that included dirt bikes. She didn't get it. She knew nothing about the bikes or motocross. But the boys loved it and that was enough for her.
"That's awesome," Henry said, actually letting a small smile escape.
Delaney's heart clenched at the sight. There just hadn't been enough smiles and giggles and excitement from any of the boys over the past three months.
"And hey," Tucker said, turning to Charlie. "Remember that ramp we built last summer?"
Charlie leaned in, the iPad he'd been playing with forgotten in his hand. Wow, Tucker Bennett continued to impress.
"Yeah?"
"We put it into the track at my place," Tucker said. His smile was as wide as any she'd seen around the table, and Delaney thought she felt a little clench in her heart at that as well.
She frowned. That could be a problem.
There were all kinds of reasons to be attracted to Tucker. He was incredibly good-looking for one thing, and while she was in mourning, she wasn't dead. He was also a hero to the four little boys she loved with all of her heart. He'd been a big part of their lives, their entire childhoods to this point, and that meant she automatically had a soft spot for him. He was also the best friend to the man who had been her best friend for thirteen years—her brother-in-law, Rafael.
Rafe and Tucker had been best friends from fifth grade through twelfth grade right here in Sapphire Falls. Tucker automatically got points just because Rafe had counted Tucker among the people he was closest to.
And Tucker was willing and able to help her out with the boys for the summer while the world stopped spinning quite so fast around them. Chelsea's sudden death three months ago, then the cancer taking Rafe only two months later, had put Delaney and the boys into a situation none of them could have been prepared for. Every day since had been a challenge. And a blur.
But when she'd driven past the sign that said Welcome to Sapphire Falls, she'd been able to take a deep breath and feel something positive for the first time since…Christmas maybe. She hardly remembered.
She felt terrible about that. The boys needed her, and they needed her to be positive, uplifting, supportive. She'd been all of those things, but frankly, she'd been faking it. Now maybe it could be true.
This was Sapphire Falls. The best place on earth. To the four little boys at the table with her right now, this town even beat Disney World. After all, there were dirt bikes here.
Here, of all places, she could be happy and positive and upbeat. Perky even. She could get things figured out, get a plan together. From what she'd been hearing about Sapphire Falls for the past thirteen years, this was where everything worked out and everyone felt good.
She knew it was crazy to think that just being here would magically fix everything.
But she didn't have any better ideas.
And the boys really wanted to ride dirt bikes this summer.
"You got the track done?" Charlie asked, handing Delaney his iPad.
Wow, completely giving up possession of it? That was huge.
"Yep, finished about a month ago. My brothers and I have been out on it and it's great," Tucker said with a huge grin.
About a month ago. Right around the time Rafe had passed away. Delaney felt a lump in her throat and looked around the table, wondering if that phrase was triggering anything for them and ready to jump in with…something. She never knew what. In spite of the online sites and books, she was never sure what exactly to say.
But the boys looked fine. They were all staring at Tucker, excitement in their eyes.
Delaney sat back in her chair and looked the farmer over again.
Staring at him was no hardship. She might just spend some time doing that now that the boys seemed settled.
Yeah, she was very, very glad to be here.
Tucker tried to ignore Delaney's eyes on him. Having her watching him was making him itchy. Not in a bad way, but in an inappropriate way.
Damn, he'd known she was gorgeous. He'd seen enough pictures over the years. And he knew she was awesome, amazing, wonderful, unbelievable—he'd heard those adjectives from Rafael for thirteen years now.
But wow. In person, with yellow frosting smudged on her white T-shirt, four matchbox cars in one hand and the lopsided bun on top her head nearly falling free, she looked…real.
She was really here. Surrounded by little boys he loved.
He'd prepared himself to see her. To finally meet this woman that his best friend wouldn't shut up about. He knew that Rafe had been madly in love with his wife, Chelsea. He knew that Rafe talked Delaney up because he loved her like a sister. He also knew that Rafe wanted Tucker to love her.
It was actually kind of crazy that they'd never met, but Rafe and Chelsea had eloped and had been married by a justice of the peace. Neither Tucker nor Delaney had been there. And there had been no funeral for either Chelsea or Rafe, per their instructions.
Tucker ran a hand over his face and carefully kept his smile in place. He knew he was being watched—and not only by the gorgeous woman to his right. The boys were giving him their full attention and he had to keep his emotions in check. Even if he was faking it.
This was important to Rafe.
Tucker had a feeling that Rafe was keeping an eye on them, and he was sure Rafe wouldn't hesitate to haunt him at night if Tucker didn't do what he wanted him to.
Tucker wanted to chuckle at that. He wouldn't mind a haunting from Rafe. He missed his friend and felt like they had more to talk about. But he couldn't chuckle without explaining what was so funny, and he didn't want the boys or Delaney thinking he was crazy.
He also couldn't choke up. He intended to talk to the boys about Rafe, because he wanted them to feel comfortable talking about their dad when they needed to. But he couldn't choke up every time. He knew that he was supposed to be the hero here. The guy who helped put the pieces back together. He'd always enjoyed being a role model for the boys, and he was very much looking forward to being Delaney's knight in shining armor.
And that was saying something. He specialized in knight in shining armor and it seemed that Sapphire Falls had a lot of damsels.
He glanced at Delaney and found her still watching him. Almost as if she was puzzled by something.
He quickly focused on David instead.
Yep, there were a number of emotions he needed to learn to control—the urge to pull her into his lap in front of the boys in the middle of Scott's Sweets was definitely one of them.
It was crazy that thirteen years had passed with Delaney and Tucker being Rafe's best friends and they'd never even been in the same room. Rafe had wanted Tucker and Delaney to get together for as long as Rafe had known Delaney.
And if she hadn't lived twelve hours away, it might have happened.
But she'd lived twelve hours away.
Until now. Now she was here. With the boys—his best friend's four sons who Tucker loved as if they were his own.
They weren't here to stay. Only for the summer. At least, that was the plan according to Delaney's emails. They were staying in Sapphire Falls so that the boys would have a summer like all the others—a good time, a memory, a way of remembering the fun times with their dad.
Tucker felt his throat tighten as he thought about the summer without Rafe. The first summer Tucker had spent without his friend since they were ten.
Twenty years. Twenty summers.
He cleared his throat and contributed just enough to the conversation amongst the kids to keep them chattering about the dirt-bike track and the season and the machines.
But his mind wouldn't stay on anything the boys were saying.
Delaney was here.
She was beautiful, for sure, but she also looked worn out. There were dark smudges under her eyes, her glossy brunette hair was mostly escaping the messy bun and she looked thinner than he remembered from pictures. Then again, it had been a while since he'd seen one. Rafe had been sick since last September, and his picture taking had slowed way down. Still, she looked not-eating-well thin rather than trim from healthy workouts.
He bet she'd stopped eating well about three months ago. Probably the night her sister was shot and killed in a random convenience store hold-up. Then the rest of her appetite had probably disappeared a month ago when she'd become the guardian of her four nephews when their dad finally succumbed to the brain tumor that had been slowly stealing his life for eight months.
Tucker ached with it all. He'd lost his best friend, a man he'd grown up with and seen five times a year over the past twenty years. The guy he emailed inappropriate cartoons and jokes to, the guy he texted while watching Nebraska football, the guy who was always only a phone call away whether Tucker had good news or bad.
But Delaney had lost her sister and her brother-in-law. A brother-in-law who had been more like a brother. Rafe and Chelsea had gotten married when Delaney was only sixteen and she'd lived with them until she was about twenty. The three of them had been on their own down there in Nashville for the past thirteen years.
He couldn't even imagine what she was going through. An overnight mom with no one to help her out.
Well, that was where he came in. The four boys were all boy. He knew that they were energetic and curious and bright and rough-and-tumble. Exactly as boys should be.
Henry was twelve and definitely the leader of the bunch. He was a rule follower, the good kid, the good student, the good role model. He was more of a traditional ball-sport athlete, preferring basketball, baseball and football to dirt biking, but he was a good rider too. For the past three summers, he'd played baseball with the kids in Sapphire Falls and had developed some nice friendships. Tucker hoped that would be good for him since he was facing the first summer here without Rafe.
Charlie was ten and the bookworm of the group. He loved to read and to build things. He could take anything apart and put it back together. He had helped Tucker build some ramps and lay out a miniature of the dirt course Tucker now had on his property. But Charlie especially loved engines, and he and Tucker's older brother, TJ, had bonded over a lawn mower last summer.
David, the hellion, was eight. He pushed everyone's boundaries and buttons just for the hell of it. He was loud and dirty and spent more time being disciplined than the rest, but he had a quick sense of humor and he loved everything about farming. Tucker's other brother, Travis, had let David help drive the tractor and watch a pig give birth last summer, and David had been in heaven. It seemed that farming calmed the kid. While he instigated most of the tussles and fights with his brothers, he was gentle and patient with the animals.
And finally, the six-year-old. Jack loved dirt bikes, loved riding, was a daredevil and loved to go fast. All the boys liked riding and had taken to it naturally and with enthusiasm, but Jack lived for it. He'd be on a bike from sunup to sundown if allowed. Tucker couldn't wait to see what the kid could do now, being a year older and a little bigger.
"Do I get a bike?" Jack asked him, wiggling on his lap to look up at Tucker.
He had smudges of brownie in both corners of his mouth and his big brown eyes were his dad's.
Tucker cleared his throat and forced a smile. "Yep, got another one for you too, little man."
Last year, Jack had shared with David, but Tucker and Rafe had talked about it, and the boys were riding for different reasons and so needed different bikes. David wasn't all that competitive. He liked riding for the ramps and dips and tricks rather than actual racing. He was hard on his bike—and himself. Ending up on his butt in the dirt didn't bother David a bit, and Rafe had always said it was the perfect outlet for all of his antagonistic energy. David needed a bike he could beat up. Jack, on the other hand, was all about racing and winning. He wanted to go fast and he wanted to cross that finish line ahead of everyone else. Tucker had found a sleek, almost-new bike that Jack could race.
"Well, this is a nice thing to walk in on."
Tucker looked up to find a beautiful blonde smiling at him and the boys. She put a hand on the back of his chair and leaned in.
"Hey, Jenna." Jenna Simpson was one of the damsels in distress in Sapphire Falls.
"I was looking for you," she said.
She smelled good. Tucker couldn't help his smile. The smelling-good thing was only one perk of being close to a girl. "Were you?"
"My truck's acting up again. I'm thinking it's the fuel line again. Could you take a look?"
Tucker loved a woman who drove a truck and who knew what the parts underneath the hood were called. He also loved that most of the single women his age came to him with these kinds of things—car repairs, basic home repairs, various other made-up issues. He liked being the guy the girls could turn to.
"Um, yeah, I could do that."
Jack squirmed on his lap, looking up at Jenna. "You smell like lemonade."
Right. Jack. And the other boys. And Delaney.
He cleared his throat. He had other responsibilities now.
But Jack was right. Jenna did smell like lemonade.
Jenna gave Jack a big smile. "Well, thanks, I think. Do you like lemonade?"
Jack nodded. "Lots."
Tucker chuckled. So Jack was going to be the ladies' man too.
Jenna lifted her gaze from Jack to Tucker. "There is really something about a hot guy holding a cute kid," she said.
Jack tipped his head to look up at Tucker, his face upside down. "Are you hot?" he asked.
"He is," Jenna assured Jack before Tucker could reply.
"You should have lemonade," Jack said. "That's cold."
Jenna laughed and Tucker bit his tongue.
It was the damndest thing really. Jenna was perfect for him. She was from here, beautiful, smart, sweet, drove a truck, wore cowboy boots, didn't get upset if her hands got a little dirty and she could bake. Man could she bake.
She met every item on his mental checklist.
And he was attracted to her. He could certainly have some fun with her between the sheets.
Yet he still wasn't dating her.
His brothers said there was something wrong with him.
His brothers might be right. If he dated her, he could have sex and cherry cobbler all the time. But he was holding out. He'd always known the right woman would come along eventually. And he had just enough sex and cherry cobbler to get by until she did.
He glanced at Delaney again, hesitantly now with Jenna flirting with him…and Jack. But Delaney had her elbow on the table, her chin propped on her hand, watching it all with mild interest. She really did look tired.
He definitely hadn't forgotten she was here. In fact, with Jenna standing so close, it seemed that his awareness of Delaney had been cranked up several notches. She not only had yellow frosting smudged on the front of her T-shirt, but she had a smear of chocolate on her arm and a few sugar crystals on her cheek near her ear. He'd guess she'd smell like sugar. Or sugar cookies.
He probably hadn't noticed all of that initially because he'd been trying not to stare at her, and because, well, the yellow frosting was on her left breast.
And there was a niggling voice in the back of his mind saying maybe you've just been waiting to meet her.
Damn if that voice didn't sound a lot like Rafe's.
Raphael Williams Castillo, known as Rafe Williams to everyone in Sapphire Falls, had been like another brother to Tucker growing up. The brown-eyed, brown-skinned mischief maker had come into Tucker's life in the summer before fifth grade and they'd been nearly inseparable after that. Tucker's brothers, Travis, TJ and Ty, had felt the same way about Rafe, and he'd been a part of most of their brotherly shenanigans. But Rafe had loved dirt biking and hunting more than Tucker's brothers, so the two boys had spent plenty of time on their own.
Of course, TJ, Travis and Ty had never passed up a dinner invitation to the Williams' place. Rafe's father, Marshall Williams, a Nebraska farmer through and through, had met Rafe's mother, Sofia Castillo, on a vacation to Mexico. It had been love at first sight and they'd gotten married two weeks later. They hadn't returned to Sapphire Falls for a few years though. It had been too hard for Sofia to leave her family. But eventually, Marshall had sweet-talked her out onto the farm. And she had ruined all of the Bennett boys for Mexican food forever. There would never be a tamale that could measure up. Ever.
"You want to come over tonight?" Jenna asked, pulling Tucker's attention back to the current moment. "I can cook."
And usually, that would be enough to get him there.
He shook his head. "I've got company."
"Oh, they're staying?" she asked, looking around the table again. Her gaze landed on Delaney—seemingly for the first time. "All of them?"
Tucker nodded. "Yep. All summer."
"These are Rafe's boys, right?" Jenna asked.
She knew they were. Everyone in town knew the boys. They were here every summer and loved Sapphire Falls. They loved the cheeseburgers at the diner and the soft-serve ice cream at the Stop, the gas station/convenience store/pizza place/ice cream shop, and the nachos at the Come Again, the only bar in town.
"Yep," Tucker said again.
"So where's Rafe?"
Everyone at the table suddenly froze. No one moved, no one made a sound. Tucker felt his chest tighten. His gaze immediately went to Delaney. She looked like Jenna had just slapped her.
Fuck.
He thought everyone knew. They'd run an obituary for Rafe. He'd gotten lots of, "I'm sorry," and, "Sorry to hear about Rafe," when he'd been out and around town and he'd gotten a few cards, along with requests for Rafe's mother's address in Mexico. She'd moved back to be closer to her family after Rafe's dad had died about ten years ago. Tucker still sent her birthday and Mother's Day cards.
Apparently, Jenna hadn't been paying attention.
"You really look like your dad," she commented to Charlie before anyone could say anything.
Charlie simply nodded, his face devoid of any other emotion. He'd been told that since he'd been born.
"Jenna—" Tucker started, not really sure where he was going with it. He didn't intend to ignore her question and he wanted to address it in front of the boys so they knew it was not a taboo subject.
"Rafe passed away a month ago."
The soft but firm voice pulled everyone's attention to Delaney.
She was sitting up straight and meeting Jenna's eyes directly. "I'm sorry you didn't know."
Delaney looked around the table and met each of the boys' gazes with clear affection and support. "The boys and I are spending the summer here in Sapphire Falls, remembering him and celebrating all of the wonderful things that he loved about this town and all of the good times the boys had with him. It's really important to him that the boys have an amazing summer here with Tucker." Finally, she looked at Tucker. "We love to talk about him, but sometimes it still hits us hard."
Several things hit Tucker hard.
The hardest to ignore was that Delaney's love and protectiveness of the boys made him want her.
He also noticed that she'd said this summer was important to Rafe. As in present tense. Not that it had been important to him, but that it was now.
He liked that.
"I'm so sorry."
Tucker looked up at Jenna. She looked legitimately stricken.
He gave her a smile. "It's okay." He looked around the table. "We're all going to be okay."
Henry met Tucker's gaze but he didn't say or do anything. Charlie was looking at his lap. David was glaring at his cookies. And he couldn't see Jack's face, but he could feel the little boy holding himself tight.
He finally met Delaney's eyes again. "Everything is going to be okay."
She gave him a little nod. "Definitely."
"I hadn't heard," Jenna said. "I just feel awful. I'll bring over…a casserole or something." She sounded completely flustered.
"I could really use some help." A voice broke into Jenna's stumbling.
Everyone turned to look at Adrianne Riley, the owner and baker of Scott's Sweets. She wore a big smile and a purple apron over a simple T-shirt and jeans. "I have a huge batch of fudge I'm trying to finish and I could use some more hands."
"I'll help!" Jack immediately began squirming and Tucker let him slide to the floor.
Jack took Adrianne's hand.
"I could use someone taller to stir," she said, looking at Henry.
Henry didn't say anything, but he pushed his chair back and stood.
"How about you guys? I could use a taste tester," she added.
That got David's attention. "I'll do it!" He was up and out of his chair in a blink.
"Um, don't let him near the burners," Delaney said. She looked at David. "Or the mixers. Or the knives. Or…most of your kitchen," she finished weakly.
Adrianne chuckled. "Got it. I'm thinking Charlie can help me keep an eye on him?" She directed the question to the final brother still sitting at the table.
Charlie got to his feet. "Okay."
Charlie could indeed help keep an eye on David. If he didn't get distracted by all the new machinery and tools in the kitchen.
"Um, you might want to keep him away from anything that…can be taken apart," Tucker said.
Adrianne gave him a wink. "We're good."
Tucker really liked Adrianne.
"I'm going to go," Jenna said as the boys headed for the kitchen with Adrianne.
The two youngest were holding Adrianne's hands and already asking a million questions, the two older ones following behind.
Adrianne was fine with the boys. She had one of her own, and even at his young age, he was a handful and a half.
She seemed to love it.
"I'm really sorry, again," Jenna said sincerely, her voice soft and sad.
He looked up at her. "It really is okay. Not your fault."
"I know you were really good friends," Jenna said. "If you need anything, let me know."
He knew that she wanted more than a couple of tumbles in bed and a few car repairs from him. And he also knew that her sympathy was real. That was how it went around here. He'd known Jenna most of his life. Yes, there was dancing at the bar and beer parties at the river and flirtations that sometimes went too far and didn't end until morning. But at the bottom of it all were real friendships and caring that stemmed from knowing people and their families and sharing a love of their hometown.
"Thanks. I will." He meant that too. If he needed a cup of sugar, to borrow a cooler, a ride somewhere, a shoulder to lean on…or a soft body to get lost in for a few hours, he could call Jenna and she'd be there.
"Nice to meet you," Jenna said to Delaney. "I'm sorry for your loss."
Looking at Delaney again, Tucker knew he wouldn't be calling Jenna, for anything, for a long while.
It also occurred to him that he hadn't even introduced the women. His mother would have smacked him.
"Thank you," Delaney said, even giving Jenna a small smile. "I'm sure we'll see each other around this summer."
"Okay. Bye."
Jenna left the shop without making a purchase and Tucker had to wonder if she'd come in because she'd seen his truck rather than because of a need for candy.
As the bell jingled over the door and then bumped shut behind Jenna, Tucker and Delaney were left relatively alone.
For the first time ever.
He knew things about her that he didn't know about some of the women he'd grown up with.
He knew she was a peanut-butter fanatic. He knew she had watched every episode of NCIS: LA three times, all seasons. He knew she loved country music and her favorite artist was Brett Eldredge.
Of course, he knew all of that from Rafe. Rafe made fun of her peanut-butter obsession, had watched all the NCIS: LA episodes with her and had given her tickets for a Brett Eldredge show for her birthday.
Now Tucker wanted to know a lot more, and he wanted to find it all out for himself.
Tucker let himself focus on Delaney. He'd been avoiding letting his gaze rest on her for more than a glance at a time because…well, frankly, the urge to pull her into his arms and let her rest her head on his shoulder was nearly overpowering. But now, looking at her, he saw more. Besides tired and messy, she looked like she was being held together by chewing gum and rubber bands—loosely and not well.
He barely knew her and he could tell she was on the verge of tears.
Tucker had grown up one of four boys himself. So he knew about three percent of the things about women that he should. But he did know that women cried for a whole host of reasons.
He wasn't about to try to guess the reason for Delaney's seemingly imminent tears, but he did know that she wouldn't want the boys to see them and he also knew that she needed to let them out.
Without thinking, he reached for her hand and sandwiched her tiny one between his. "I'm glad you're here."
She didn't look startled at his touch, and she didn't pull away. In fact, her fingers curled around his. Which was interesting. And stupidly, inappropriately arousing.
Yes, he liked to take care of women. Yes, he felt close to this one because of their shared love and loss of their best friend. Yes, she looked like she desperately needed someone on her side, holding her up and holding her together.
But he also really wanted to kiss her.
"I'm really glad to be here," she said. "The boys need you."
So do you. He didn't say it. She might not appreciate that a bit. But she did need him. Even without Rafe telling him that she did, Tucker would have thought so.
"I love those boys. This will be a great summer, I promise."
Tucker knew that she was intending to take the boys to Colorado to be closer to her parents. Tucker also knew Rafe and Delaney had argued about that. Rafe didn't want her to go, but he acknowledged that she didn't have many options. Delaney hadn't wanted to stay in Nashville with all of the memories there. She wanted a new start for her and the boys. Her only family now was in Colorado and that seemed the best choice.
But only because she didn't know Sapphire Falls. Yet.
Sapphire Falls was a better place for her and the boys than Colorado, without question. Delaney and her sister had been estranged from their parents for thirteen years. Their parents had thrown Chelsea out when she got together with Rafe, and Delaney had followed her sister only a few weeks later. Tucker didn't know every detail about that, but he did know that Rafe and Chelsea had taken Delaney in and they had been the three musketeers ever since. To say that Rafe had been concerned about Delaney leaning on her parents now would be an understatement. Rafe had hoped this summer with Tucker would ensure she would come back to Sapphire Falls often to visit.
And now, within the first five minutes Tucker had ever actually spent with her, over a table covered with cookie and brownie crumbs, with her looking like a wilting flower in the hot summer sun, Tucker definitely wanted to convince her to do more than visit.
Tucker pulled his hands away and sat back. Whoa. That was fast. And…a lot. Even for a guy drawn to women in need, that was a lot.
"We should get you all out to the farm. You can relax. You look like you need a shower."
A heartbeat later, he realized how that sounded. And it hadn't sounded like a come-on. That he could have dealt with.
Her eyes widened. She looked down at herself, lifted her hand to hair and then looked back at him.
And started laughing.
Tucker felt relief wash through him as his mouth curled. Okay, so he hadn't offended her. Or she was too tired to do anything but laugh hysterically. Either way, he wasn't getting slapped.
"You have no idea how much I'd love a shower," she said.
That wasn't a come-on either, he knew, but his imagination didn't care.
He cleared his throat as his mind ran with the image of her taking her hair down from the bun and it cascading over her naked back.
Dammit. He'd been quickly attracted to women before. He had an active imagination. But there was no way in hell he was going to make a move on a woman in mourning, overwhelmed with her new life responsibilities and completely out of her element.
Their situation was complicated.
She was staying at his farm with the boys as Rafe always did. They couldn't have a fling. Unless of course it lasted all summer…
"I'm going to apologize ahead of time for the sugar high and the coming crash for the four boys in the other room," Delaney said.
He grinned. "I've got a farm."
She raised an eyebrow, indicating she had no idea what he was talking about.
"Plenty of fresh air and room for them to run and work off some of the energy and plenty of chores to be done if they're grumpy or fighting."
She actually took a deep breath at that. "They need that. So much. Eight hours in the car two days in a row… I know I should have broken the trip up more, but I was so anxious to get here."
She meant because of the boys. She meant because she wanted to get out of Nashville and away from the sad memories. She meant because she needed his help. But damn if Tucker didn't want her to mean more than that. He wanted her to be anxious to see him for him.
And how was that even a tiny possibility? She didn't know him.
Surely Rafe had talked about him as much as he'd talked about her. Surely when they got back from their summer trips the boys told her about him. Okay, the chances were better that they told her all about the farm and the dirt bikes and the swimming hole and the festival. Tucker knew he was important to the boys, but he and all of that were wrapped up together in their minds.
He was just going to have to show Delaney who he was and that there were lots of reasons to be glad to see him.
He grinned at that.
This had all the makings of a fantastic summer.
"Let's get the hoodlums out of here," he said, stretching to his feet and holding his hand out to her.
She took it without hesitation and let him pull her to her feet.
They stood close—probably too close—and looked into each other's eyes for a moment.
But in the brief bit of time, Tucker felt the connection. The I know you that didn't make a lot of sense but felt pretty damned real.
Then the moment was gone. Delaney stepped back and turned toward the swinging doors to the kitchen to retrieve the boys. He'd been so caught up in her, he hadn't noticed the talk and laughter coming from the kitchen.
Man, he owed Adrianne.
"I need about three dozen to go," he told her as he strode into the back room.
Adrianne looked up from the work counter where she had Jack putting candied flowers onto squares of white fudge. Henry was stirring at the stove and Charlie and David were popping chocolates out of candy molds and arranging them on trays.
"Take whatever you want. The boxes are under the front counter," she told him. "Okay, boys, soap and water is right over there."
Tucker watched Delaney as she watched the boys all abandon their jobs and head for the big sink along the far wall.
"Holy crap," she muttered.
If he hadn't been standing close he wouldn't have even heard it, but it made him smile.
They washed up and Tucker loaded them all into his pickup. He didn't doubt for a second that giving Delaney some time to herself was a good move. Plus, the boys loved the big truck and there was no chance they could get it dirty—the truck was made for dirt.
Delaney got into her Jeep with the rented moving trailer behind it, ready to follow him to the farm with all their stuff.
Tucker shifted the truck into drive and pointed it east, feeling a strange contentment as he started toward his farm with Rafe's boys and Delaney.
They were going home.