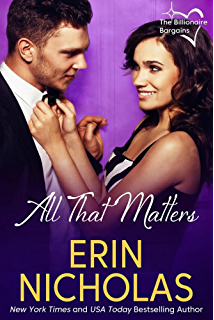 The Billionaire Bargains, Book 3
Will Weston knows Emily Steele is too good for him. She's too good for any of the guys he knows-even if he does know an astonishing number of suave, handsome millionaires. But Emily's special. And he thought so even before he realized he had a little crush on his boss's niece.
Emily Steele would definitely consider herself intelligent and worldly. Born into privilege, she's been exposed to travel, culture and the best education. A billionaire's daughter, Emily is used to having everything she could ever need or want-cars, clothes, trips. But she isn't used to being single. When she decides she needs a break from her eight year relationship with the only boy she's ever even dated, Emily realizes she has a lot to learn. About the world and herself. And men. Definitely about men.
A friend's bachelorette party in New Orleans is the perfect place to get in touch with her inner vixen. Some drinking, dancing, flirting and fun seems like a great plan. Too bad she knows nothing about flirting. And has never actually met her inner vixen.
When Emily's uncle insists that his assistant, Will, accompany Emily to New Orleans, he knows it's not a good idea. The minute she was single, he suddenly became all too aware of how beautiful, charming and interesting she is. And that can only mean trouble. But when Emily offers Will's best friend a million dollars to be her date for the weekend instead, there is no way Will is staying behind.
Warning: Contains a woman with enough money to buy a date for a weekend in New Orleans, a guy who's never going to let that happen, a bachelorette party on Bourbon Street, hot sex to slow jazz and beignets… because there has to be beignets.