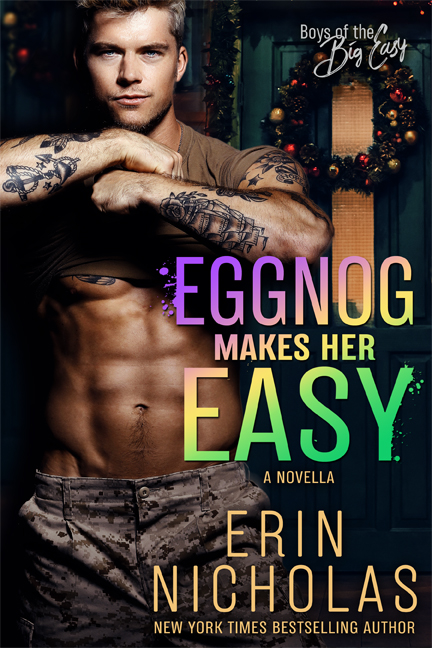 Lindsey is expecting silent nights this holiday. Just her and her boys while her husband serves overseas. But her blue Christmas turns merry when things start rockin' under the mistletoe thanks to a surprise gift from her naughty Santa.
After all, the nice list is overrated.
Available at the following retailers:
Santa caught her eye and patted his lap. She lifted a brow. Well, that was a little…sassy of him. And she felt herself smiling because of that. She had to admit that this was fun. It had been Logan's idea but Santa was playing right along, the perfect kind of flirtatious, hot, mysterious guy to be giving out naughty gingerbread men and body glitter.
She approached him and took a deep breath as she slid into his lap.
Matt would think this was fun. He'd be encouraging me to sit here and play along and open a funny gift.
She knew those things were true. So she didn't feel bad about the wow that went through her head as she sat down on Santa's very muscular thigh. His big hand settled on her hip and he slid her back further onto his lap. And she let him. Because this was all just for fun.
And she was a red-blooded, heterosexual woman who really appreciated the male body—especially hard ones—and who hadn't been up against any in quite some time.
"So, Lindsey, what can Santa bring you?"
She opened her mouth to reply and suddenly gasped. Because Santa's hand closest to the crowd was still resting somewhat innocently on her left hip, but his other hand was running up and down her other thigh. His fingers grazed the edge of her skirt. And then just under the edge of her skirt.
"I, um…"
"Maybe some eggnog-flavored body lotion?"
Lindsey froze. The second Christmas she and Matt had been together, he'd given her a tube of eggnog-flavored edible body lotion. Not only had it been hilarious, but it had been a lot of fun later that night.
She swiveled her head to look at Santa. "You talked to Matt?" she asked. No one knew about that body lotion.
"I've got my ways," he said. "I know a lot about you."
Suddenly she felt choked up. Logan and Dana had gotten in touch with Matt for gag Christmas gift ideas. That was so nice. Dana knew her well enough to come up with something appropriate, but they'd wanted it to really be amazing. And they'd wanted to include Matt in the fun. That was amazing.
She sniffed. "What else do you know?"
"I know that on Christmas Eve you and your two boys will watch It's a Wonderful Life."
She smiled at that. "Doesn't everyone watch It's a Wonderful Life on Christmas Eve?"
"Matt never did until he met you."
Longing, nostalgia, and a strange mix of sadness and wow-these-guys-really-worked-to-make-this-special hit her. She nodded. "That's true."
"He'd also never had marshmallow popcorn."
"It's the only thing to eat during It's a Wonderful Life."
She realized that his hand was still stroking up and down her thigh from her knee to just under the edge of her skirt. But it didn't make her uncomfortable. Maybe it should. Okay, it definitely should. But it felt strangely soothing. She took a deep breath. She needed to get off of this lap.
Soon. In a minute. Eventually.
She had the strangest desire to lean in to him. To shift so that maybe he could reach just a little higher on her thigh. Maybe put her head on his shoulder. And take a deep breath. She had a feeling that he smelled really good.
And all of that did make her feel bad.
She took a breath. "Okay, how about my present?"
"Yeah, about that…"
She turned to look at him. "What?"
"Well, your gift wouldn't fit in the bag."
"Oh?" Okay, that got her attention. She didn't need big gifts. Or any gifts. But if someone was going to give her one, a big one was just fine with her. "Where is it?"
"The other room. Want me to show you?"
A thought occurred to her. "Did Matt have something to do with it?"
"Yep."
In ten years, she and Matt had had three Christmases together. Matt knew that she was okay. Basically okay, anyway. When he was there, it was a huge celebration. When he wasn't…it was like every other day. But Christmas…well, that was their holiday. When they'd met, when they'd fallen in love. He'd proposed to her the second Christmas they were together. So he always made a big deal of it, even when he wasn't there in person.
She popped up from Santa's lap. "I'm ready."
He stood too. "Okay, then there's just one thing we have to do first."
"What's that?"
He pointed at Logan who was holding up his phone for a photo. Then he pointed to the mistletoe overhead.
Was she willing to kiss the guy who, while he might have gotten a little handsy, was about to give her a great big Christmas present from her husband? Damn right she was.
"Nobody can fight mistletoe, right?" she asked.
"Absolutely." Santa stepped closer and ran a hand down the front of his shirt.
Lindsey felt something niggle in her mind. Or maybe her heart. That gesture, dragging an open palm down the front of his shirt, was something Matt did. Before he was going to say something important. Before he accepted a medal. When his dad told him he was proud of him. It was a combination of preparation and pride.
Then she saw it. As that feeling of déjà vu was still rippling through her, she saw the long scar running down Santa's index finger.
Matt had a scar exactly like that. From a fishing hook when he was fourteen.
But Matt did not have a beard. And especially not a white one.
Well, there was one way to know who this guy was for sure.
She stepped close, went up on tiptoe, took his face between her hands, and put her lips against his.