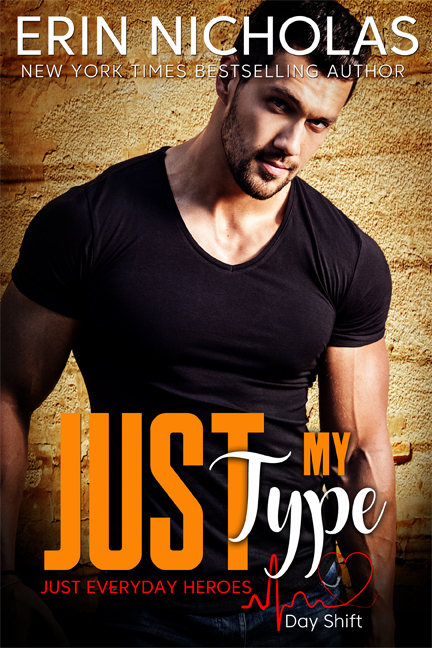 She's his dream girl. Except for the fact that she's way too young for him. And way too sweet. And his best friend's little sister.
He's everything she's ever wanted. Except for the fact that he's convinced they're totally wrong for each other. And the stubborn-as-hell thing. And the her-brother-will-kill-them part.
But then she discovers cotton candy flavored body powder, pink fur wedges, and nipples clamps, and everything changes.
Well, except the her-brother-will-kill-them part.
Available at the following retailers:
"I need you to kiss me."
Several heartbeats passed before he said, "Excuse me?"
"Gary thinks he's taking me home. I need you to help me convince him I'm involved with someone."
Mac frowned down at her. "Tell him no."
"He's in town until Tuesday and comes back on business all the time. He'll keep bugging me."
Mac's frown turned to a scowl. "Keep telling him no."
"This is easier," she insisted, moving closer as Mack leaned back slightly. "If he thinks I'm involved, especially with a big, mean-looking guy like you, he'll drop it."
"Mean-looking?"
"When you frown like that." She moved even closer. "Come on. Just a little favor. One kiss."
He'd kissed her cheek, her forehead, the top of her head and her hand before. And once on the lips. New Year's Eve. Two years ago. Which was when the lust had started. She'd never felt like that with even the most passionate kisses from other men and this had been only a New Year's Eve kiss. It hadn't been a peck, but neither had it been carnal by any stretch—It had been full, lips slightly open, up against the full length of his body, lingering for a good minute.
All she'd been able to think after was wow and if he ever really turned it on, I'm a goner.
"Tell him you're with me," he said with a growl turning back to his chair at the head table. He grabbed her hand just as she thought he was walking away and pulled her along with him. "Stay with me and you won't have to tell him anything at all."
Sara let herself enjoy Mac's hand, big, warm and strong, for a moment before making herself keep up the argument—even though he was right. She wanted that kiss.
"Someone already told him I'm single. Even if he doesn't approach me again tonight, he'll probably call tomorrow."
Mac settled down into his chair and pushed the chair next to him out for her.  "Want me to stay over and answer the phone until Tuesday?"
She swiveled on her chair seat to look at him, gauging the motivation behind the offer.  She knew he didn't mean it like that.  He'd slept on her couch before.
"Yes," she said simply.
"I will," he told her lifting his glass.  "But you have to buy Twinkies."
Mac's favorite food.  Normally, she would roll her eyes and joke about his propensity for junk food.  But she was in a mood tonight.  She leaned over and put her hand on his hard, flat stomach.
"How do you keep these so tight with all those Twinkies?"  She rubbed her hand back and forth over the warm, white linen of his shirt.
Mac seemed to freeze.  And stop breathing.  His eyes were locked on hers and she felt a current zing between them.  She'd never touched him like that.  They'd held hands, even hugged before and she'd touched his arms, back, shoulder, even face once, but never his chest, or stomach, or lower.
"Sara?" His voice was definitely hoarse.
"Mac."
"Move your hand."
She slid it downward and Mac shot back, tipping his chair onto its back legs and throwing him off balance enough that he stumbled to his feet, knocking the chair over.
"Hell, Sara!" he swore.  Straightening to his full height and glaring down at her he demanded.  "What the hell was that?"
She blinked at him, trying for innocence.  "You said…"
"I didn't mean that!" he snapped.
"Well, why not?
"Enough.  You're obviously drunk."
Instead of looking up and arguing his statement, Sara's eyes found the object of conversation almost right in front of her.  And he looked interested in what she was proposing.
Mac had an erection.  Right there.  Front and center.  Unmistakable.
"You sure you're not interested?" She looked directly at his fly.
He quickly righted the chair, sat and dropped his napkin in his lap.  "Knock it off."
"What?  You're telling me you've never thought of it?  Ever?"
"Of having your hand down my pants at your brother's wedding?  No, I can honestly say I haven't."  He wouldn't look at her.
"So when have you thought about having my hand down your pants?"
He opened his mouth, shut it again, shifted in his chair, frowned.  "Stop it."
She scooted her chair closer.  "Mac, honestly.  Have you ever thought of us together?"
"Sure.  We're together all the time at Sam's, at the Center and the hospital."  He still wasn't making eye contact.
Sara touched his knee and he nearly jumped out of his chair again.  She smiled.  She'd watched the two people she knew best—her sister Jessica and her brother Sam— fall in love with their spouses.  She'd seen the effect that intense attraction had on people and how they acted until they admitted the attraction and did something about it.
"I'm talking about naked, you and me."
"Of course not," he answered quickly.  Too quickly.  He was scowling again.  "You're a kid, like a sister to me."
He was lying.  He had to be lying.  Before she could think it out any further and potentially chicken out, Sara slid from her chair to Mac's lap, cupped the back of his head in both hands and kissed him with all she had.
Damn it.
Mac realized he should have seen this coming. But a man could only be expected to be so intelligent when most of his brain cells were saying things like yes and take her and recalling all of the ways he had imagined her hands on him. And vice versa.
Sara's kiss started off as a point to prove, he knew, but it didn't matter that at first it was only lip to lip. It was the whole thing—the warm, satiny feel of her, the way her butt fit perfectly against his groin, how great she smelled and how delicious she tasted and how incredible she sounded when she sighed, then moaned when his hands went to her hips and his lips opened, deepening the kiss.
He couldn't help it. This was Sara. To hell with the idea she had been like a little sister to him for the past ten years, to hell with the fact she was twelve years younger than he was. To hell with the fact he was way too wild for her, to hell with the fact she was his best friend's baby sister and that this was Sam's wedding.
It was that last thought that made him finally use more than four brain cells and pull back.
He held her at arm's length and watched as she pressed her lips together, tried to focus her eyes and sucked in a long pull of air to try to catch her breath.
God, she was beautiful. And she'd just kissed him.
He'd always been afraid he'd do that before she got herself safely married to someone else. However, doing it at her brother's—his best friend's—wedding was not cool.
Son of a bitch.
He stood swiftly and put her on her feet, slowly taking his hands from her, when in actuality he wanted more. Much, much more.
"You need to go…somewhere else."
She blinked at him. "No."
"Yes. Now."
"Gary might find me."
"Well, Sam's about to find me, so get scarce."
She glanced over her shoulder and saw her brother coming toward them. "Ladies' room."
"Good choice." Sam couldn't follow her in there.
Neither could Mac. He somehow kept his eyes from following Sara out of the ballroom. It didn't matter. Sam had seen what led up to her exit.
"What the hell, Mac?" were Sam Bradford's first words to his friend.
Mac held up his hands. "Hang on, get the whole story, Sam."
Sam raised both eyebrows. "I'm waiting. About ten seconds."
"She kissed me, Sam. And it was all just a ruse to get that Gary guy to leave her alone."
Sam didn't look convinced. "You couldn't tell him to leave her alone?"
"I did."
"Did it work?"
"Seemed to."
"So what's with the kissing?"
Sam wasn't totally pissed. Mac had seen Sam totally pissed and this wasn't it. He definitely wasn't happy, though. He was giving Mac the benefit of the doubt, but it wouldn't last forever.
It would have been helpful if Mac's brain had been working at full capacity, but a large part of it was still firmly on Sara. How she felt in his arms, how she'd been the aggressor, how good she was with her tongue. And how she'd gotten so good at that.
Damn.
Fun Stuff: free short stories and a coloring book!
Bradford Extras: Behind the scenes, inspiration for the series and more!